MYCOM,

the number one screw compressor manufacturer in the world. We have developed the ultimate screw compressor for the MICRO COLD screw packages.
Designed and manufactured by MYCOM, the "V" series has many superb features. These work together to obtain maximum performance, ease of operation and high reliability.

Models from 125 mm ( 140 cfm) to 400 mm (5,760 cfm) diameter to meet all of your requirements (based on 3550 RPM compressor speed).

ROTOR PROFILE

A newly developed MYCOM "O" profile is used in the "V" series screw compressors. Higher efficiency is achieved by reducing the inter-lobe blow-by gas. This profile also facilitates a build up of oil film on the rotor lobe surface by the circular arc profile rather than the conventional raised sealing edge.

VARIABLE Vi

"V" series compressors have the capability of being able to change the Vi (internal volume ratio) whenever required. Manually adjustable Vi is standard (fully automatic variable Vi is available as an option). The applicable range is from 2.6 to 5.8 (2.2 to 5.0 as an option). Optimum Vi can be set at the factory prior to shipment if required.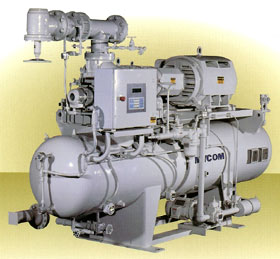 CAPACITY CONTROL
The hydraulically operated slide valve regulates the capacity of the compressor from 10% to 100%. Part load efficiency is improved on the "V" series compressors.
COMPRESSOR HOUSING
MYCOM screw compressor housings are low porosity cast iron (cast steel is also an option) designed in compliance with ANSI/ ASHRAE 15-1994. The compressor assembly is hydraulically tested at 350 psig after assembly.